Between Earth, Sea & Sky: There Go I
EXPLORE THE BEAUTY AND MAJESTY OF A DEEPLY MYSTERIOUS AND BOUNTIFUL LAND FULL OF ANCIENT MAGIC.
AUSTRALIA IS PRUE'S BIRTH-LAND, JOIN HER AS SHE WEAVES AN ADVENTURE IN COUNTRY. YOU WILL BE VISITING A PART OF AUSTRALIA THAT IS 1/2 A BILLION YEARS OLD , OF SIGNIFICANT GEO-HERITAGE WITH EVIDENCE OF SOME OF THE FIRST FORESTS & ANIMALS THAT APPEARED ON EARTH, AND STILL HOME TO PLENTIFUL FLORA & FAUNA WHICH CAN BE FOUND NOWHERE ELSE ON PLANET.
IMMERSE IN THE EARTH'S FECUNDITY, THE SEA'S CREATIVE JUICES AND THE SKY'S VAST WISDOM USING VARIOUS AWARENESS PRACTICES & CONTINUUM TO CATALYZE AND AUGMENT THE FLOW OF THE SACRED IN OURSELVES AND THE EARTH WE ARE AN EXPRESSION OF.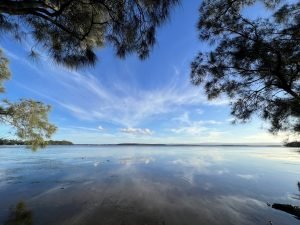 The location is assessable and unknown outside Australia. This ensures that you will have an experience not too many people who visit Australia do. It is a quiet, still pristine part of the country. The area has small towns with vibrant art and community – yet it is mostly National Park, and with sacred areas to the aboriginal peoples who have been here for millennia.  (I am not speaking to specific names – so as to keep the location quiet). You will be enveloped in nature and all it's diverse splendour. 
RETREAT DETAILS
The retreat is an inclusive blend of daily meditative fluid movement & somatic awareness classes in Continuum, guided walks in National Parks, Kayak & SUP in pristine rivers and estuaries, swimming and wildlife encounters, good food and various sightseeing excursions. A sacred cultural session will be included to learn from the oldest living civilization of the planet. People traveling from USA or overseas are encouraged to explore all that Australia offers further before or after this retreat.
ACCOMODATION
Accommodation is a well-appointed private home retreat center spread out over many acres. It has lagoon frontage, a lily pond and pool for swimming and a private beach access. The location is an ecology sensitive property that includes a retreat room dome for teaching Continuum sessions each day. We will be surrounded by the deep peace of the land and the stirrings of nature all around.  Most mornings you will wake to see Kangaroo's and Wallabies on the lawn, black cockatoos and wedge tailed eagles flying overhead.
Choice of accommodations will include: single rooms, and shared rooms in the retreat house. The house has multiple living spaces and plentiful outdoor places are spread throughout the property for quiet time alone reflecting when needed.
FLIGHTS
Fly into SYDNEY KINGSFORD SMITH AIRPORT
There will be an additional connector flight from Sydney to the nearest town – a 45-Minute drive from Retreat location. Further details will be made available on registration. 
Transfers from/to the regional airport will be arranged. Transportation during retreat will be arranged also.