Location: Beautiful private lake front acreage in 
Sonoma, California
Thursday October 5th to Sunday October 8th
RETREAT FEE with accommodation: $975.00 – $1075.00
Non-refundable deposit $200 due by August 30th.
Full Payment of Retreat fee & Accommodation due by September 15th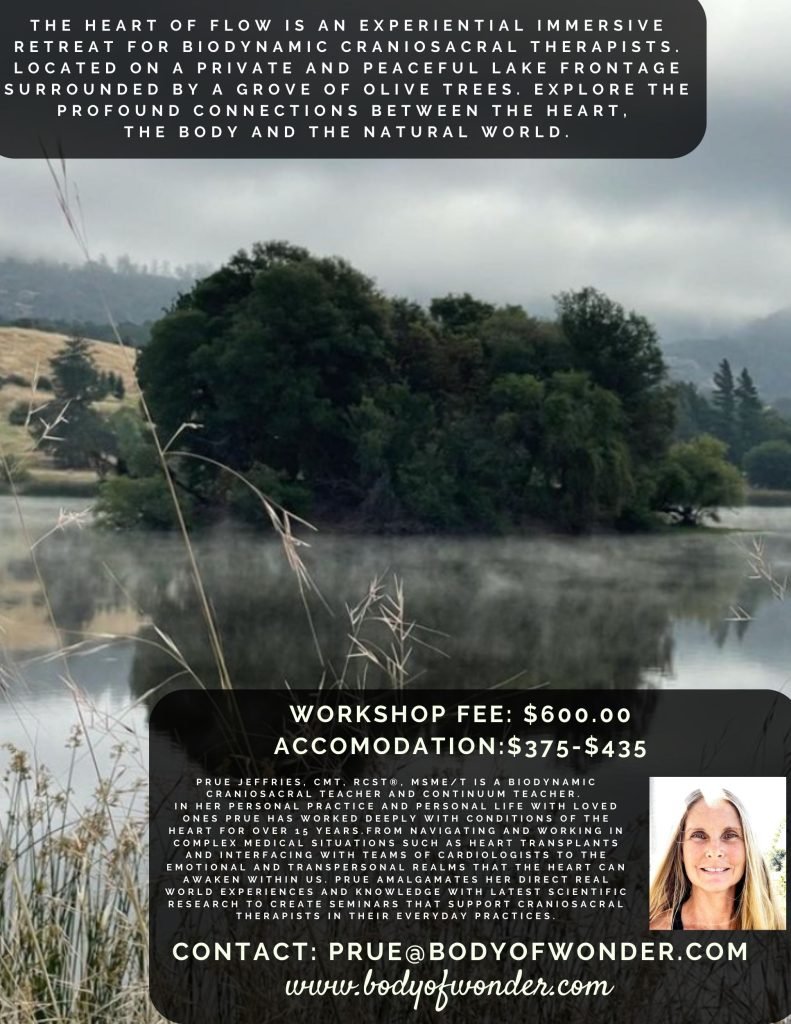 The Heart of Flow
is an experiential immersive retreat for Biodynamic Craniosacral Therapists. Located on a private and peaceful lake frontage surrounded by a grove of olive trees. Explore the profound connections between the heart, the body and the natural world.
Delve deep into evolutionary biology of the heart. Billions of years ago, our hearts started to form through the ubiquity of vortex rings in nature. Today they continue their role in the ongoing function of the heart.
Discover the importance of vasomotion. The rhythmic oscillations of blood vessels that regulate circulation. Learn how vasomotion influences the body's self-regulating mechanisms. Its role in maintaining health. This knowledge will enhance your therapeutic orientation. Insights gained will support your clients' wellbeing.
Deepen into your relationship with your heart. There will be opportunity to explore somatic movement practices such as Continuum. Connect to the innate wisdom of your body. Foster a deeper felt-sense experience of the Heart. Learn how can this enhance your capacity as a practitioner.
From personal exploration to inter-personal. Connect with the Breath of life and share Biodynamic Craniosacral sessions with colleagues.
Various orientations to support clients with the hearts many layers, and to integrate topics learned will
be shared
.
Can transpersonal experiences foster a sense of unity and interconnectedness with all life?
Transpersonal space, its significance in the healing process; and the relational field as sacred space will
be discussed
.
Deepen your understanding of transpersonal experiences so you can support your client's encounters with the Breath of Life
.
Exploring the heart will illuminate its profound role in physical, emotional, spiritual and planetary well-being
Immerse yourself in a supportive and nurturing environment. Renew your sense of self. Foster a deeper connection to your body. Enjoy a greater understanding of your place in the evolutionary tapestry of life.
The retreat offers a comprehensive exploration of the heart and its role in healing and wellbeing
.
By integrating biodynamic principles and practices, you will learn to work with the heart's wisdom, resilience, and energetic qualities
.
Skills learned will enable you to create a safe and nurturing space for your clients to access their heart's healing potential
.
The objective of the "The Heart of Flow" seminar is to provide participants with a comprehensive understanding of the intricate relationship of heart health and Biodynamic Craniosacral Therapy (BCST). Over the course of 4 days, participants delve into advanced concepts such as vortex rings, vasomotion, transpersonal space, and the heart, enhancing your skills and expanding your therapeutic toolkit.
A 20-hour in-person seminar in experiential retreat setting focusing on practical embodied approach to learning.
Body of Wonder Seminars are designed with layers of experience and learning opportunities in mind. This retreat focuses primarily on deeply experiential experience for practitioners, the personal and intra-personal to bring deeper awareness of the heart. A combination of theory, somatic movement experiences, hands-on practice, and peer-to-peer learning, you will gain the skills and knowledge needed to bring new insights to your practice.
"The Heart of Flow" consists of the following core topics that are built upon with further sub-topics.  
Evolutionary Biology of Heart Formation throughout Nature 

Vortex Rings and Fluid Flow function of the Heart

Electro-physiology of the Heart

Transpersonal Space of the Heart supporting practitioners and clients experiences

Somatic movement education with Continuum for practitioner personal Heart explorations

Practitioner table exchanges with orientations to support insights learned about the Heart.

Group dialogue and discussions around the Breath of Life and experiences of the Heart Space.

 
After completing the seminar, participants will have acquired skills and knowledge to enhance their practice of Biodynamic Craniosacral Therapy (BCST) in relation to the heart. Here are key points and learned skills from the seminar:
 

Enhanced Understanding of Evolutionary Biology of the Heart: Participants will gain a deeper understanding of the principles of evolutionary biology and its relevance to somatic movement and biodynamic Craniosacral therapy. They will explore how evolutionary processes inform the heart and body's inherent intelligence and adaptive capacities. How it can also build a greater sense of interconnection with life.

Proficiency in Working with Vasomotion: Practitioners will gain advanced knowledge and techniques for working with vasomotion, understanding its influence on the body's self-regulation and overall health. They will learn to support optimal vasomotion patterns through biodynamic Craniosacral therapy, facilitating deep relaxation and restoration in their clients.

Navigating Transpersonal Space: Participants will explore the concept of transpersonal space and its significance in the therapeutic process. Through guided meditations, somatic movement explorations, and group discussions, practitioners will develop skills to navigate transpersonal dimensions, facilitating profound shifts and connection with clients' higher selves.

Heart-Centered Therapeutic Approaches: Practitioners will deepen their understanding of the heart's role in healing and transformation. Through advanced techniques in biodynamic Craniosacral therapy and somatic movement, participants will learn to access the heart's wisdom and resilience, supporting clients in cultivating compassion, joy, and connection.

 

Integration of Theory and Practice: The retreat will provide a platform for practitioners to integrate theoretical knowledge with practical skills. Through experiential learning, case studies, and peer-to-peer exchanges, participants will deepen their understanding and refine their application of evolutionary biology, vortex rings, vasomotion, transpersonal space, and heart-centered approaches.

 

Professional Growth and Expansion: The seminar will empower participants to elevate their professional practice and expand their therapeutic toolkit. By integrating the retreat's teachings into their work, practitioners will enhance their ability to address complex patterns, facilitate deep healing, and support clients in their personal growth and transformation.

Community and Networking: The retreat will foster a supportive community of like-minded practitioners, creating opportunities for networking, collaboration, and ongoing learning. Participants will have the chance to connect with colleagues, share experiences, and build lasting relationships within the field of somatic movement and biodynamic Craniosacral therapy.
PRUE JEFFRIES, CMT, RCST®, MSME/T IS A BIODYNAMIC CRANIOSACRAL TEACHER AND CONTINUUM TEACHER.
IN HER PERSONAL PRACTICE AND PERSONAL LIFE WITH LOVED ONES PRUE HAS WORKED DEEPLY WITH CONDITIONS OF THE HEART FOR OVER 15 YEARS. FROM NAVIGATING AND WORKING IN COMPLEX MEDICAL SITUATIONS SUCH AS HEART TRANSPLANTS AND INTERFACING WITH TEAMS OF CARDIOLOGISTS TO THE EMOTIONAL AND TRANSPERSONAL REALMS THAT THE HEART CAN AWAKEN WITHIN US. PRUE AMALGAMATES HER DIRECT REAL WORLD EXPERIENCES AND KNOWLEDGE WITH LATEST SCIENTIFIC RESEARCH TO CREATE SEMINARS THAT SUPPORT CRANIOSACRAL THERAPISTS IN THEIR EVERYDAY PRACTICES.
Contact: Prue@bodyofwonder.com